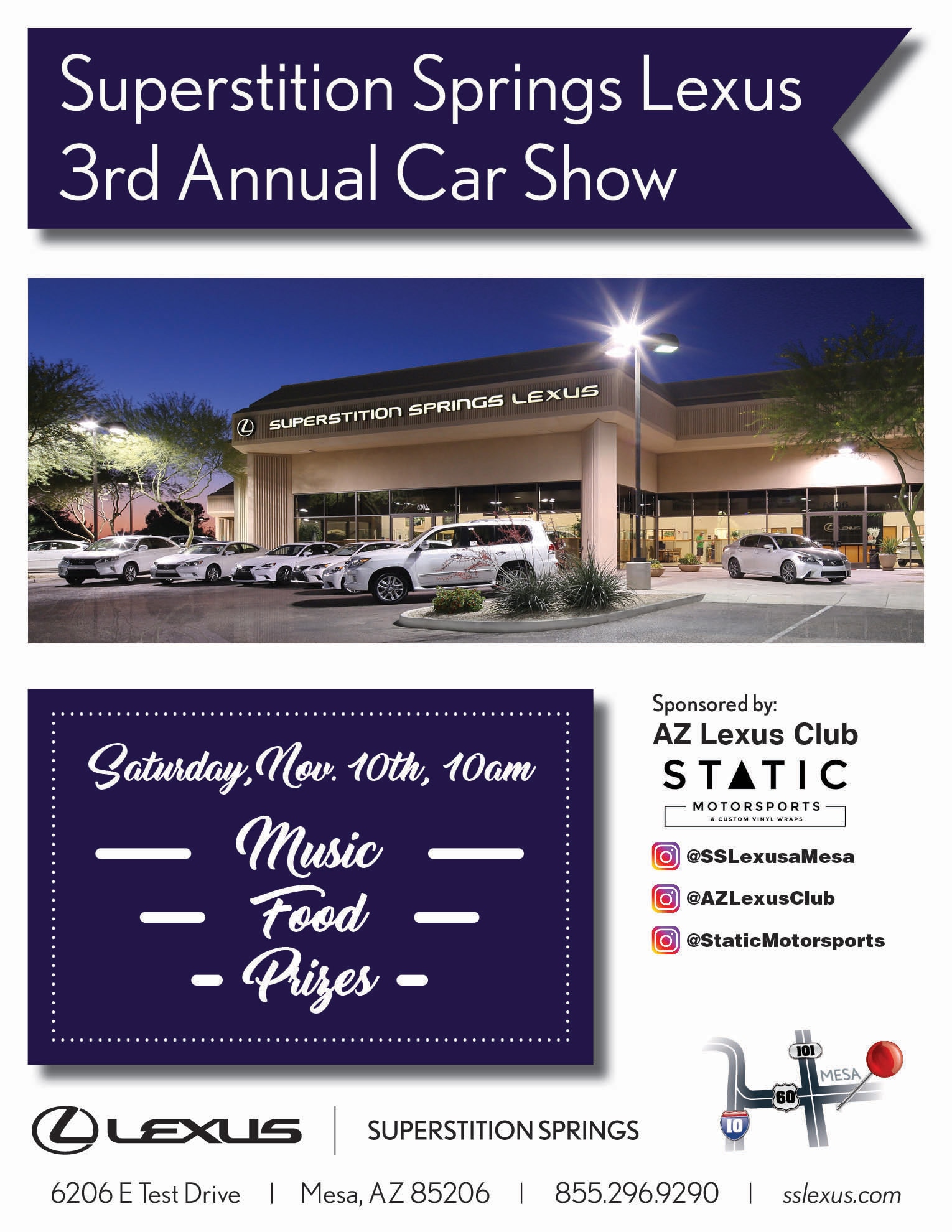 BIG BROTHERS BIG SISTERS OF CENTRAL AZ
Superstition Springs Lexus is proud to support Big Brothers Big Sisters of Central AZ.
LEXUS MATCH AND THE AMERICAN HEART ASSOCIATION
Brent Adkisson hands Christie Davies a check for the American Heart Association as part of the Lexus Match Program. The monies will be used for CPR education in schools.
THANKS TO EVERYONE WHO CAME OUT FOR OUR LADIES TECHNOLOGY NIGHT EVENT IN APRIL.
SUPERSTITION SPRINGS LEXUS HELD OUR FIRST CASINO NIGHT BENEFITTING SUNSHINE ACRES CHILDREN'S HOMES
BRENT ADKISSON, GENERAL MANAGER IS PRESENTING A CHECK FOR $3,000 TO CAROL WHITWORTH , SUNSHINE ACRES.
IT IS BRENT ADKISSON, GENERAL MANAGER PRESENTING JESSICA MCCAFFREY AMERICAN CANCER SOCIETY, A CHECK FOR $3000.00 FOR CHILDHOOD CANCER.
WE ARE DEEPLY COMMITTED TO GIVING BACK TO OUR COMMUNITY AND WE WELCOME ANY QUESTIONS OR COMMENTS YOU MAY HAVE.
If you wish to volunteer or would like to donate to any of the charities listed below, 
please contact Brent Adkisson at 623-738-3505 or email BADKISSON@SSLEXUS.COM
The list of charities and Events:
United Way
United Food Bank of Mesa
Save the Family Foundation
New Owner Clinics