Expected to make its debut in the summer of 2020, the 2021 Lexus LC500 Convertible invites two individuals for a thrilling ride. This all-new convertible essentially evolved from a similar coupe model that's been on the market for several years. Consumers in the North American market got a sneak peek at this sporty car at the 2019 LA Auto Show.
Looking Forward to the 2021 Lexus LC500 Convertible
Under the hood, the 2021 LC500 Convertible is expected to have a 5.0 L V8 engine block that whips out more than 470 horsepower and just less than 400 pound-feet of torque. Thanks to this eight-cylinder powertrain, this all-new model clocks in a 0-to-60 MPH acceleration in less than 5.0 seconds. Up to 10 gear selections will be available in the transmission system, which will propel a rear-wheel-drive (RWD) system. A low and wide stance surely contributes to such superb performance on a closed track or the freeway. The quad exhaust tips emphasize the powerful capabilities of this sporty Lexus car.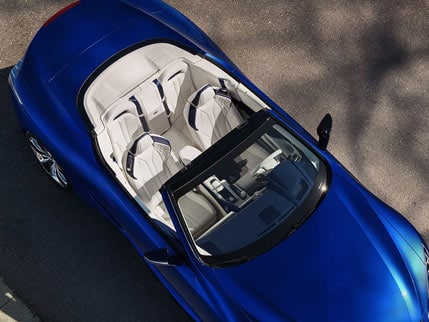 Consumers should also look forward to plenty of high-tech amenities in the cabin, such as an infotainment system with a 10.3-inch display. Of course, the high-resolution LCD monitor will have a touch-sensitive interface that requires minimal input. Android Auto and Apple CarPlay will be standardized in the next-generation Lexus Enform multimedia platform. Additionally, Amazon Alexa will drastically improve the connectivity options in the infotainment console. The premium electronic amenities are complemented by stunning interior design, which includes white leather upholstery with intricate stitching outlines.
Side bolsters, lumbar supports, and tall headrests optimize the ergonomics of the front seats in this sleek convertible model. Multiple levels of ventilation and heating are available for the sporty seats. The car's soft top can be easily opened with the push of an electronic button. It will take up to 15 seconds for an electric motor to precisely open the top.
The closing mechanism is expected to take up to 16 seconds. When it comes to exterior styling, the 2021 LC500 will be produced in a striking Structural Blue finish. Other hot paint options, such as Caviar and Nightfall Mica, will be available when this sporty model reaches full market production. This compact two-door vehicle isn't exactly designed for families seeking road trips, so the trunk capacity is slightly less than 5.0 cubic feet.
Contact our Lexus dealership for updates on the all-new 2021 LC500 Convertible. We'll invite you for a test drive when this cool convertible model arrives at our dealership.