One of the reasons customers at our dealership buy one of our popular Lexus SUVs is because of the convenience they provide when hauling cargo such as groceries or sporting equipment. Often when purchasing an SUV for the first time, customers will ask how to use the hands-free tailgate. This hand-free tool is much easier to use than you think.
Later Lexus SUV and crossover models come with a tailgate kick sensor. You'll understand just how convenient this feature is the first time you use it when you approach your vehicle with your arms full.
STEP ONE: Before you approach, make sure you have the key fob in your pocket or purse as the sensor won't work without it.
STEP TWO: Place your foot under the center of the rear of the vehicle and then gently kick upward. Wait a moment for the sensor to pick up on your action. This will give you time to step back from your vehicle to allow the tailgate to open.
STEP THREE: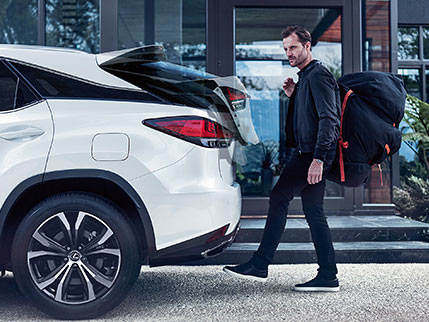 Make sure you step far enough away from the tailgate to avoid being hit by it. Once the tailgate has swung open, place your cargo inside. It's that simple. When you have placed everything inside the cargo area, you can either close the tailgate by hand or initiate the hands-free operation. Gently kick toward the underside of your vehicle, stopping within 4 inches of contact, step away, and the tailgate will close. How's that for convenience?
Your new Lexus will have many convenient features like this one. Please stop by our showroom to talk to one of our associates to take a test drive and experience everything that a new Lexus SUV or crossover has to offer.