Technology in newly manufactured vehicles makes our life much more convenient, but this technology can also be a big risk when it comes to the overall safety of our personal information and our vehicle. With technology evolving and developing as each model year goes by, it is important to make sure preventative measures are taken to keep your car from being taken over by hackers. Bluetooth technology, WiFi and USB ports are a major safety concern. Don't let this experienced hackers gain access to your vehicle. Read on to find out more about preventing a hacking incidents from occurring to your vehicle.
The Dangers of Software Updates
Software isn't just something that you utilize on your home computer. It is also used for vehicles. This software will need to be updated as well. You will likely hear from your manufacturer when it comes to needing an update. This maintenance can be performed at our service center. You can trust the professionals that we staff here at Superstition Springs Lexus. You don't want to take your vehicle to a new service center, or small-time shop. If you would rather, you can contact the manufacturer regarding the update. Many manufacturers will be more than happy to send you the updates on a USB drive. If you are comfortable with the process, you can perform the updates yourself. Make sure you complete the updates. There may be valuable information that will ensure your vehicle remains secure.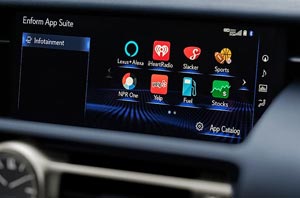 Vehicle Recalls
There are a number of different reasons why your vehicle might be recalled by the manufacturer. The most common reasons for recalls are a safety concern of some sort. If your vehicle has been recalled because of a hacking issue, contact us directly right away. We'll make sure that we service your vehicle according to manufacturer's directions. Just because you haven't received notification in the mail about a recall doesn't mean there isn't one present. Stay up-to-date on current vehicle recalls by reading reputable internet websites that frequently update recall information.
Add-On Devices
Every vehicle that is on the market right now is equipped with a diagnostics port. A service center such as ours can tie into this port to find out information about your vehicle. Some of this information is necessary in order to inspect or service your vehicle. For example, our service center uses this diagnostics information to assess your emissions. If you have an error code flash on your vehicle's dashboard, this port is utilized then as well. There are a number of different devices that can be plugged into this port. You don't want to mess around with this port or third party devices. You also don't want to modify your vehicle's normal functions on your own. If you have any questions about something you want to add to your vehicle, simply give us a call. We'll quickly answer your question. The last thing you want to do is give access of your vehicle to a number of different people.
If your vehicle is in need of service relating to the overall security of your car, contact us here at Superstition Springs Lexus. We have a number of ways that we can assess the overall security of your vehicle, to see how easy it would be for hackers to gain access. Taking the necessary steps now, can go a long way to preventing safety issues later on down the line. Depending on the model of your vehicle, there may be some additional steps that we can take to increase the overall level of security of your vehicle.