Recently Lexus gave the public some insight into what they have planned for 2019. The big revelation was a forty-four miles per gallon, three-hundred horsepower hybrid sedan model. The trim level is labeled the ES sedan and it is considered to be a mid-sized luxury vehicle with attitude. The big difference between previous models is the fuel efficiency. This new model will provide a ten percent better efficiency rating than found last year. With some minor updates here and there the ride should be far better as well.
Exterior Styling
The 2019 Lexus ES is going to provide drivers with a sporty vehicle that comes well equipped under the hood. The outside of the vehicle has been redesigned slightly. It rides a bit lower than previous models. The ES is 2.6 inches longer, 1.8 inches wider and 0.2 inches lower. The wheelbase is also an inch longer. There are a number of great color options available that reflect the sporty exterior but also encompass a lot of class.
Interior Styling
The interior of the Lexus ES has seen some updates as well. The interior has a bit more headspace than previous years. There is a lower roof line on the exterior but Lexus did not let this affect the interior one bit. The ES comes with a central screen on the dashboard. You get Apple CarPlay technology along with Alexa voice recognition. You can truly customize your ride how you see fit. This year Android Auto is still not available. There might be an update in 2020. The screen is large enough that you can view your navigation fully without having to switch between controls. The controlling can be done easily with 1-to-1 trackpad controls. This is an upgrade from previous year's mouse-like joystick controls.
Power Under the Hood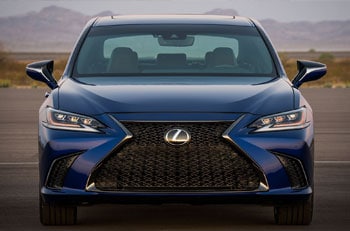 There are three different options for power in the ES. The hybrid option is a 300 horsepower hybrid engine with a four cylinder hybrid system. This is similar to the previous year's hybrid model. However, some minor tweaks will push out fifteen more horsepower. Fuel efficiency has also gone up this year. Forty-four miles per gallon is being reported instead of just forty miles per gallon. You will have plenty of merging power on the highway. You can also handle the road with ease thanks to this engine.
Currently there is no pricing information available for the 2019 Lexus ES. It is likely that this information will be available shortly before the model become available in September 2018. We have a number of specs on hand if you are interested in finding out more about the ES release. For more information, feel free to contact us here at Superstition Springs Lexus. We are happy to answer any questions that you may have about the new 2019 Lexus ES Hybrid, as well as any of the other vehicles that we currently have on our lot right now.