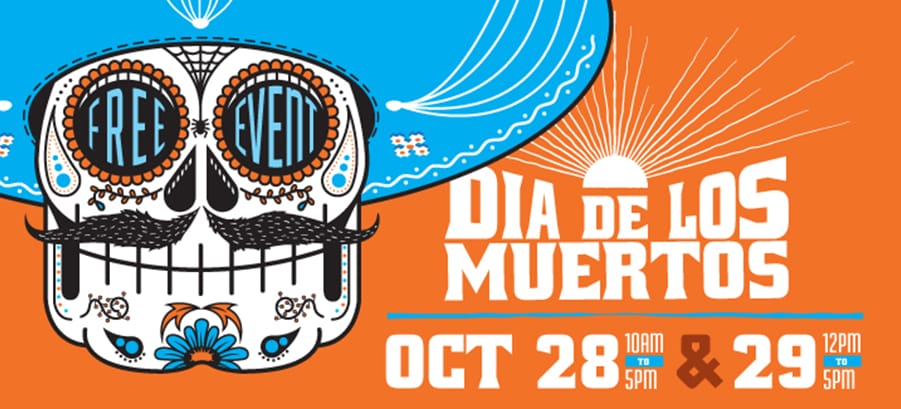 1 E. Main St.
Mesa, AZ 85201
Saturday, Oct. 28 – 10 a.m. to 5 p.m.
Sunday, Oct. 29 – 12 p.m. to 5 p.m.
At the end of the month, the Mesa Arts Center is hosting a free Día de los Muertos (or Day of the Dead) festival in Downtown Mesa. Whether you personally celebrate the holiday or are interested in learning more about this aspect of Mexican culture, you and your family are more than welcome to attend!
Día de los Muertos is a Mexican holiday that pays tribute to those who have passed on from this life, honoring them through lively celebrations filled with eating, drinking, music, dancing and more. The important thing to remember about this holiday is that it's not an occasion to mourn, but to celebrate the lives our deceased loved ones led! In fact, many believe that the spirits of the dead return to carouse with the living during these festivities.
Throughout the two-day festival, there will be plenty of ways to commemorate the dead, from delicious food, face painting and live music and performances to artistic demonstrations and a huge mercado (marketplace) filled with arts, crafts, jewelry, calacas and calaveras (decorative skeletons and skulls), and more.
On top of that, you'll also find elaborate handmade altars created by talented local artists, including a giant community altar that attendees are welcome to fill with the photos of their deceased loved ones, as well as flowers, candles and other ofrendas (offerings) that they enjoyed while they were alive.
To learn more about the Día de los Muertos celebration, visit the Mesa Arts Center website.